Remembering Brice Creelman
We here at Shades of Green are saddened by the loss of our long-time colleague Brice Creelman, who passed away peacefully at home on May 22, 2019.
Like so many of us in this business, Brice was a true plant person. He loved to travel, being on the road, having somewhere to go. And he went everywhere. He visited nurseries and gardens all over Texas and surrounding states, often driving long miles because he, "Heard there was a plant there" that he wanted to see.
He loved his work. Loved being outside. Loved collecting and sharing plants, and he loved his wife Jayne. They met in kindergarten and were married 34 years. Every birthday and Valentine's Day, Brice gave her plants for gifts.
Born and raised in upstate New York, Brice discovered his love for horticulture as a young boy while working on a farm that had a glass greenhouse where orchids were grown. He found working with the plants and learning about them was much more fun than feeding cows.
After graduating high school, Brice and some friends bought a VW van and drove to California to seek their fortunes. When they ran out of money, they drove back to New York, stopping in Dallas along the way. Brice fell in love with Texas then and there. He felt at home here. Dallas, with all its activity, was exciting and felt "alive" to him. It was so very different from the slow pace of the small town in rural New York where he was raised. He returned home and worked for a year to earn enough money to return to Texas.
Shortly after his arrival back in Big D, he was driving down a street and saw a tractor on the back lot of North Haven Gardens. Brice knew how to drive a tractor from his days working with his father, the groundskeeper for a wealthy family's estate. He stopped, applied for a job, was hired, and started the next day. He learned all aspects of the nursery business and was taught how to propagate plants by Ralph Pinkus. Brice spent the next 20 years at North Haven Gardens and their growing operation, Tawakoni Plant Farm.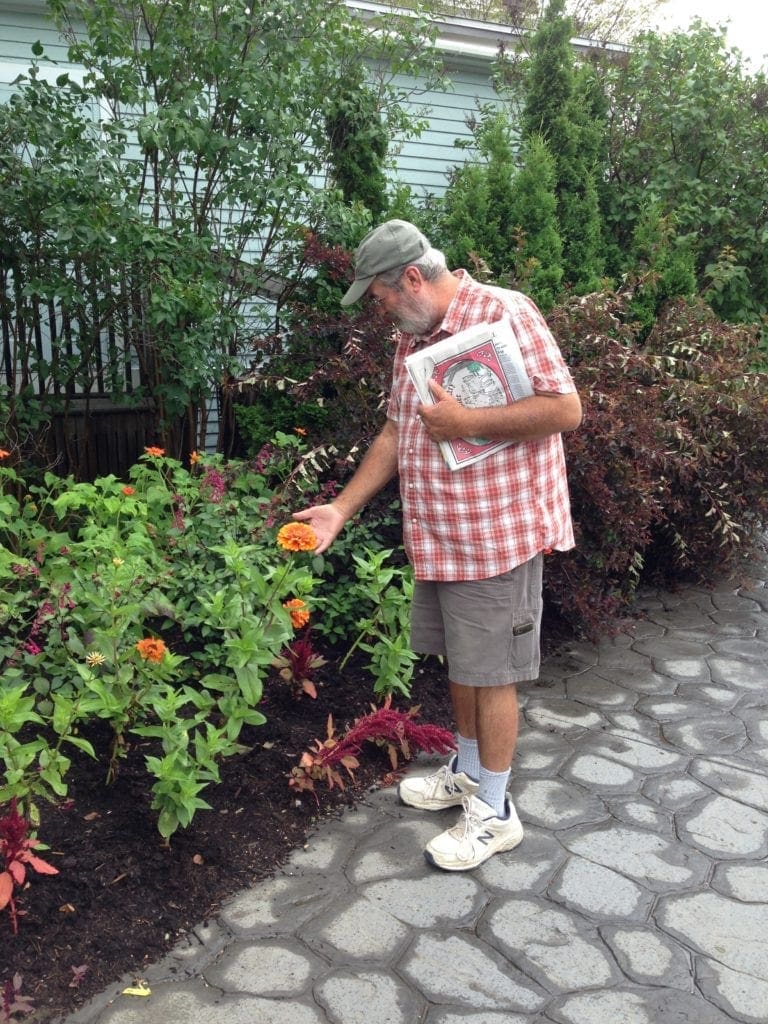 Brice was a person very much at ease with himself and his place in the world. He was a laid back, unassuming, deep thinker. His philosophy was, "Do what you can live with" and "Do it now." He lived his truth, described by his wife as, "Get up. Go to work. Do no harm." Brice lived authentically, simply, and genuinely and it showed because he smiled with his eyes.
In 2000, Brice joined Shades of Green as our Grower, where he oversaw operations at our tree farm, Brillo Verde, in Collinsville. He soon began propagating native Texas perennials. These beautiful, heat and drought tolerant plants were his favorites, and have since become a Shades of Green hallmark. Thanks to Brice's guidance and care, Brillo Verde now produces over 40,000 pesticide-free perennials of over 120 different species each year.
We owe a lot to Brice. He was kind and generous with his knowledge and a pleasure to work with. He was a naturally funny person who could tease anyone without offending them. We will miss his presence, his talent, and his silly, goofy, quick, razor-sharp wit.
From all your friends, family, and fellow plant lovers, thank you Brice. You made a difference in our world. May you rest in peace.
—
Donations may be made in Brice's memory to the Lady Bird Johnson Wildflower Center in Austin, Texas.
---
About the Author: Tim Wardell is a Texas Certified Nursery Professional and the Marketing Coordinator for Shades of Green, Inc.
Blog Cover Photo: One of the greenhouses Brice walked every day at Brillo Verde Tree Farm. Courtesy of Jayne Ellis Creelman.