If you hope to see hummingbirds in your landscape, then you need plants that hummingbirds feed on.
This Shades of Green Shopping Guide provides our Top 10 picks of best Perennials for Hummingbirds. Most are native to Texas and all are perennials, plants that go dormant in winter, but return year after year. They are listed by size, shortest to tallest.
All of these plants, along with other great native and adapted perennials, may be found at Shades of Green Nursery + Landscape! (Availability varies by season and demand. Plants may not be  in-stock at the time of your visit.)
Our Top 10 Perennials for Hummingbirds:
Coral Bells - Heuchera spp. & hybrids
• Herbaceous perennial – Zone 4-9
• Plant in full to part shade
• 8-15 inches tall x 12-18 inches wide
• Spring blooms in hues of coral, red, white or pink attract butterflies & hummingbirds
• Showy foliage brightens shaded areas
Texas Pink Skullcap - Scutellaria suffrutescens
• Deciduous perennial – Zone 7-10
• 8-18 inches tall x 24-30 inches wide
• Plant in full sun
• Drought tolerant & heat loving
• Neat & compact growth habit
• Snapdragon-like pink/red flowers bloom all summer
• Despite the name, it's native to Mexico
Click here to see our video on Texas Pink Skullcap.
Texas Betony - Stachys coccinea
• Native Texas herbaceous perennial
• 1-3 feet tall x 2-4 feet wide
• Plant in full sun or part shade
• Drought tolerant
• Red blooms March to October
• Attracts hummingbirds
• Hardy in Zone 6-9
Autumn Sage - Salvia greggii
• Native Texas deciduous perennial
• 2-3 feet tall & wide – Zone 7-10
• Plant in full to part sun
• Masses of small flowers in red, white, salmon, or pink from late spring to frost
• One of the most hardy salvias
• Heat & drought tolerant
• Attracts hummingbirds & butterflies
• Also called Cherry Sage
Mealy Blue Sage - Salvia farinacea
• Native Texas herbaceous perennial
• Grows 2-3 feet tall & wide
• Plant in full sun
• Blue blooms spring through fall
• Attracts bees, butterflies & hummingbirds
• Also called Mealycup Sage
• Hardy in Zone 8-10
Hummingbird Mint - Agastache spp.
• Herbaceous perennial – Zone 6-10
• Grows 2-3 feet tall & wide
• Plant in full sun
• Prefers well-drained soil
• Blooms early summer to fall
• Also called Anise Hyssop or Agastache
• Tubular flowers attract hummingbirds & butterflies
Gaura / Whirling Butterflies - Gaura lindheimeri
• Native Texas herbaceous perennial
• Grows 2-5 feet tall x 2-3 feet wide depending on cultivar
• Plant in full sun. Heat & drought tolerant.
• Blooms early summer to fall
• Delicate flowers resemble hovering butterflies
• Hardy in Zone 5-9
Flame Acanthus - Anisacanthus quadrifidus var. wrightii
• Native Texas herbaceous perennial
• Grows 4 feet tall & wide
• Plant in full sun to part shade
• Heat & drought tolerant
• Orange-Red blooms in summer
• Also known as Hummingbird Bush
• Hardy in Zone 7-10
Turk's Cap - Malvaviscus arboreus var. drummondii
• Native Texas herbaceous perennial
• 3-5 feet tall x 4 feet wide and spreading
• Plant in full sun to full shade
• Red blooms from spring to fall attract hummingbirds
• Easy to grow but can be invasive
• Drought tolerant
• Hardy in Zone 8-11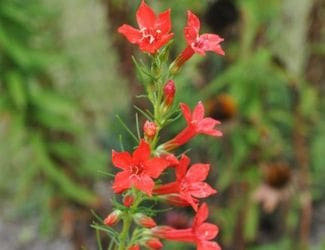 Standing Cypress - Ipomopsis rubra
• Native Texas herbaceous biennial that reseeds / self-seeds freely
• Grows 2-5 feet tall x 1-2 feet wide
• Plant in full sun or part sun
• Prefers well-drained soil
• Red blooms in summer
• Hardy in Zone 6-9