Planted and Guaranteed Trees
Shades of Green Plant & Guarantee Agreement
4 Steps to Success
Add 254-602-4314 to your phone. We will use this # to text updates about your tree planting.
Get old trees, shrubs, and stumps removed.
Purchase a moisture meter to ensure proper watering.
Read this Tree Care Guide.
Click here to download this information as a PDF.
Our Plant & Guarantee Process

|

What to Expect

Thank you for purchasing a tree from Shades of Green Nursery & Landscape and trusting us to plant it for you. To ensure your tree's success, and a smooth planting process, please follow the 4 Steps listed above. With that done, here's what you can expect moving forward.
Within 10 days of your purchase, we will send you documents including the tree guarantee policy, utility policy, watering and tree maintenance recommendations, tree stump grinding requirements and additional fee schedule.
Within 10 days of your purchase,

Shades of Green will contact Texas811

so they can mark any utility lines in either the front or backyard as noted on the order. The purpose of these markings is for you to identify exactly where you want your plants planted. Our utility policy shares more details regarding this process.
You will receive a text informing you of your planting date and a general time frame of arrival. We always select the earliest available date for every installation, and delivery dates are based upon order size and location. If you fail to confirm this appointment within 48 hours your order will be moved to the end of the que.
48 and 24 hours before your scheduled planting date you will receive a text with the delivery crew's target arrival time.
Prior to the Tree Crew's arrival customers must have the placement of their tree decided.
When planting, the Tree Crew mixes compost into the existing soil, adds throw packs (used for growth and early root development) into the planting hole and mulches around the tree. If necessary, they will stake the tree. Typically, staking is not done or recommended unless it is an abnormally windy area. The tree will be watered properly on Day 1 by the Tree Crew.
Enjoy the new addition to your landscape and follow our recommended watering and tree maintenance recommendations.
Deep Stump Grind Requirements
If you want Shades of Green to plant a new tree in a spot within six feet of a former tree, it is the customer's responsibility to ensure the former tree stump is ground down to the appropriate level as noted in the chart below. The "grind" must occur at the spot where the new tree will be planted.
We recommend using J&J Tree Service, 214-715-0051.
Please be aware that if Shades of Green is unable to plant due to a stump that was not appropriately removed, we will charge a $200 restocking fee and your planting will be moved to the end of the que.
Size of new tree
to be planted
15 Gallon
20 Gallon
30/35 Gallon
45 Gallon
3"
3.5"
4"
4.5"
Size of deep
stump grind required
26" Wide x 14" Deep
27" Wide x 15" Deep
31" Wide x 16" Deep
38" Wide x 18" Deep
38" Wide x 24" Deep
38" Wide x 24" Deep
42" Wide x 30" Deep
42" Wide x 30" Deep
Water Requirements
DO NOT overwater your tree! 90% of trees that die are due to overwatering. Err on the side of under-watering. Underwatered trees will cast off leaves to conserve moisture, and re-leaf when watered. Overwatering damages the roots first, and then the leaves die and remain on the tree. The root system is generally damaged beyond recovery at this point and the tree dies.
Summertime heat is hard on all living things. Water requirements rise as heat increases. If soil is well drained, then trees may be watered with lower frequency for longer periods. If soil is poorly drained the trees need to be watered for a shorter period to allow water to soak into the soil.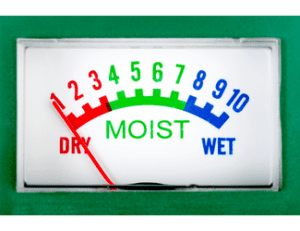 Always check the soil moisture of tree root balls before watering. Water only when water is needed and soak the soil deeply when you water. We recommend using a moisture meter if you are unsure of the appropriate soil moisture level. Check the soil moisture of the root ball 10-18" from the trunk of the tree, depending on the size of the root ball. When using a moisture meter, stick the probe 6-8" deep and note the meter reading. Water the tree if the meter reads dry. Check in two or three different locations around the root ball, then take the average reading. The moisture meter will mainly prevent you from watering an already moist or wet tree.
Until plants have developed deep roots, they may need more frequent watering. Trees have an establishment period of about two weeks where the trees will need a little more water. Check daily for water and water only if needed. In the Fall, Winter, and Spring, typically water every other day for the first two weeks. This will prevent transplant shock. In the summer, you may need to water daily for the first two weeks.
After the establishment period (typically 2 weeks) water as followed, if needed:
Winter months = twice a month
Spring & Fall months = once a week
Summer months = once every 3-5 days
Remember: Water during the cooler parts of the day (early morning) to reduce evaporation and water slowly/deep.
Tree Maintenance Guide
Trees are ALIVE! Trees require love, care, and attention. Please do not neglect the new addition to your landscape!
When transplanted to a new location, trees undergo a very stressful period commonly called transplant shock. It is typical to lose a few leaves during this period. Apply Superthrive if damage is apparent. This product is a hormone that helps improve the overall health of the tree. You can apply this product monthly. If excessive damage is observed, submit a Work Order using the form below.
Pull weeds around the root ball by hand.
Trees are mulched at the time of planting. Mulch will biodegrade. Add more when needed, so that there is a 1" layer on the root ball. Do NOT cover the root ball with anything besides a 1" layer of mulch. When oxygen flow is restricted to the root system, the tree suffers. Please make sure to keep mulch about 6 inches from the trunk of your new tree.
Be sure not to apply "weed and feed" fertilizer or herbicides near or on the root ball. Do not plant anything at the base of the tree or place rocks around the root ball.
It is recommended to fertilize a year after planting with a slow-release fertilizer such as Espoma's Tree-tone in the Spring and Fall.
Check closely for insect damage and treat the tree if necessary.
If staked, the customer is responsible for removing the stakes and straps 6 months after planting if the tree can stand on its own. The straps used can strangle the tree if left on too long.
Our 1 Year Guarantee (Excluding Palm Trees)
How Our Guarantee Works: Trees planted by Shades of Green are guaranteed to live 1 year from the day of installation. Any tree that dies under warranty (1 year from plating date), will be removed, and replaced.
Guarantee Allowance: This warranty covers the dollar value of the original tree at the time of purchase. Replacements are not planted in the heat of the summer (June through September).
Who is not covered? The warranty is not transferable to another owner.
What is not covered? The warranty will cover only one tree replacement. The guarantee will not apply when the tree dies due to fire, freezes, storms, high winds, drought, insects, hail, diseases, extreme heat, other acts of nature, damage, theft, owner's neglect, including under-watering, over-watering, planting on top of root ball, hanging items or lighting in tree and poor drainage.
Do you have an issue with your new tree? Immediately upon noticing an issue with your new tree contact us! Failure to notify us of any problems within two weeks of noticing may result in the voiding of your warranty due to neglect. Submit a Work Order using the form below.
Utility Policy
The primary purpose of marking utility and sprinkler heads is for you, the customer, to select a proper place for your plant(s) without doing unnecessary damage.
To assist you, within 10 days of your purchase, Shades of Green will contact Texas811 to come to your house to mark any utility lines in either the front or backyard as noted on the order. You are responsible for identifying and marking sprinkler heads and irrigation lines.
Once these areas have been identified, you can select the proper place for your plant(s) to be planted. When selecting the location, remember, the size of the hole will be approximately twice the size of the plant container or root ball. The edge of the hole dug must be 1 foot away from any utility or irrigation marking.
Shades of Green will not be responsible for any damage to utility or irrigation lines.
Additional Fee Schedule
A restocking fee of $200 will be charged if a tree stump is not ground per Shades of Green requirements, or you cancel your appointment giving less than 24-hours' notice. Your planting will be moved to the end of the que and will not be rescheduled until the fee is paid.
A $200 fee will be charged if you ask the Tree Crew to move the tree to a different location once the first hole has been dug. If the tree has already been planted, your warranty will be void.
If the crew hits rock within the first six inches of digging the hole, a fee will be assessed based on the time it takes for the crew to break through the rock. The fee is $100 per hour. Failure to pay the fee will void the warranty.
Problem with your tree? Please fill out the form below.