Groundcover are low-growing, spreading perennials - often evergreen - used in lieu of grass in a landscape. They typically form dense mats that prevent weeds from growing. Shade-loving groundcovers are a great alternative to turfgrass in spaces where there is not enough sunlight for a lawn to survive.
Here in North Texas, we have many options to choose from. No matter if you need something for full sun, full shade, or both, use this Shades of Green Shopping Guide to explore our picks for great groundcovers!
Click here for a downloadable PDF, or scroll to the bottom for video.
Great Groundcovers for North Texas: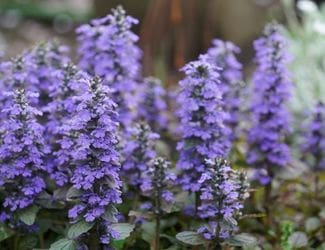 Ajuga / Bugleweed - Ajuga Reptans
• Evergreen, blooming groundcover that spreads quickly by runners
• Plant in part shade (does best when protected from afternoon summer sun)
• Prefers moist conditions
• Colorful foliage looks great in in shady spots
• Available in a wide range of leaf sizes, colors and textures
• 3-6 inches tall and spreading
• Hardy in Zone 4-10
Catlin's Giant, Chocolate Chip, Black Scallop, Bronze Beauty, Burgandy Glow & Mahogony are popular cultivars.
Algerian Ivy - Hedera canariensis
& Variegated Algerian Ivy - Hedera canariensis 'Variegata'
• Evergreen perennial climbing vine or groundcover
• Grow 8-12 inches tall and spreads/climbs 15-25 feet or more
• Plant in part to full shade
• Vigorous growing vine or ground cover that clings to tree trunks, walls, or fences with ease
• Hardy in Zone 8-11
• Typically evergreen, it is frost tender in North Texas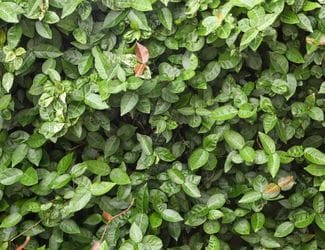 Asian Jasmine - Trachelospermum asiatcium
• Vigorous, sprawling, drought tolerant, evergreen vine forms a dense mat of foliage in sun or shade
• Grows 8-10 inches tall and spreads 6-10 feet
• Hardy in Zone 7-11
Snow N Summer (Trachelospermum asiaticum 'Snow N Summer') & Summer Sunset (Trachelospermum asiaticum 'Summer Sunset') are two popular varieties with variegated/colored foliage. They tend to only spread 2-3 feet and make great "spillers" in container plantings.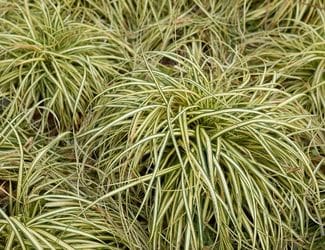 Carex / Sedge - Carex spp.
• Fast growing, evergreen, grass-like groundcover with narrow leaves & graceful weeping habit
• Plant in full to part shade
• Grows 8-24 inches tall x 12-24 inches, but can vary considerably depending on cultivar
• A wide range of cultivars are available
• Provides a nice color contrast in shade gardens
• Hardy in Zone 4-9
Common Periwinkle - Vinca minor 'Bowles'
• Evergreen, shade-loving goundcover with lavender flowers in spring
• Plant in full to part shade
• NOT drought tolerant (needs regular watering)
• Grows 4-6 inches tall x 3-5 feet wide
• Hardy in Zone 6-9
English Ivy - Hedera helix
• Evergreen perennial – Zone 4-9
• Grows 6-8 inches tall and spreads 2-3 feet or more
• Plant in full sun to full shade
• Green foliage year-round
• Use as groundcover, climbing vine, or houseplant
• Can be very aggressive in the landscape
Variegated English Ivy - Hedera helix 'Variegata'
• Evergreen perennial – Zone 4-10
• Grows 6-8 inches tall and spreads 2-3 feet or more
• Plant in full sun to full shade
• Attractive creamy white-variegated green foliage
• Use as groundcover, climbing vine, or houseplant
Horseherb - Calyptocarpus vialis
• Native Texas perennial groundcover
• 4-6 inches tall x 1-2 feet wide
• Plant in part sun to full shade
• Long blooming - with tiny yellow flowers in spring and summer
• Drought tolerant
• Evergreen in mild winters
• Also called Straggler Daisy
• Hardy in Zone 8-11
Big Blue Liriope / Lily Turf - Liriope muscari 'Big Blue'
Pronounced "lir-RYE-oh-pee"
• Clumping, evergreen groundcover with lavender flower spikes
• Plant anywhere from full sun to full shade
• Cut back in late February & fertilize for new growth
• Grows 12-15 inches tall & wide
• Hardy in Zone 5-11
Giant Liriope / Lily Turf - Liriope muscari 'Gigantea'
Pronounced "lir-RYE-oh-pee"
• Clumping, grass-like, evergreen, perennial groundcover that doesn't spread
• Plant anywhere from full sun to full shade
• Violet purple flowers rise above arching, glossy leaves
• Grows 2 feet tall & wide
• Hardy in Zone 5-11
Variegated Liriope / Lily Turf - Liriope muscari 'Variegata'
Pronounced "lir-RYE-oh-pee"
• Dark lavender flower spikes in summer
• Slow-spreading, evergreen groundcover
• Plant anywhere from full sun to full shade
• 12-15 inches tall & wide
• Hardy in Zone 6-11
Mondo Grass - Ophiopogon japonicus
& Dwarf Mondo Grass - Ophiopogon japonicus 'Nana'
• Low maintenance, evergreen, drought tolerant, ornamental grass
• Plant in full to part shade (will not take afternoon sun in a Texas summer)
• Hardy in Zone 6-11
Mondo grows 12 inches tall and spreads up to 12 inches wide by rhizomes
Dwarf Mondo grows 3-4 inches tall & spreads slowly up to 6-8 inches wide
Purple Wintercreeper - Euonymus fortunei 'Coloratus'
• Spreading, evergreen groundcover
• Dark green leaves turn purple in fall and winter
• Plant anywhere from full sun to full shade
• Grows 12-18 inches tall x 2-4 feet wide
• Drought tolerant once established
• Hardy in Zone 4-9
Texas Frogfruit - Phyla nodiflora
• Native Texas perennial groundcover that spreads vigorously
• Evergreen in warm years and areas protected from frost
• 3-6 inches tall x 1-3 feet wide
• Plant in full sun to part shade
• Small white flowers bloom spring to fall
• Also called Turkey Tangle Frogfruit
• Hardy in Zone 7-11
Creeping Gray Germander - Teucrium aroanium
• Evergreen perennial groundcover
• 2-4 inches tall x 18-24 inches wide
• Plant in full sun or part sun
• Gray foliage with fragrant, rosy-violet blooms spring through fall
• Great choice for xeriscaping or rock gardens
• Drought tolerant
• Hardy in Zone 5-10
Creeping Jenny - Lysimachia nummularia 'Aurea'
• Herbaceous perennial – Zone 3-9
• 3-5 inches tall x 18 inches wide
• Use as groundcover or "spiller" in pots
• Plant in full sun to full shade
• Can tolerate wet soil and shallow, rocky soil
• Also called Golden Moneywort
Woolly Stemodia - Stemodia lanata, Stemodia tomentosa
• Native Texas herbaceous perennial groundcover – Zone 8-11
• Grows 6 inches tall x 3 feet wide
• Plant in full to part sun
• Prefers dry, well-drained soils
• VERY heat & drought tolerant
• Almost insignificant tiny lavender / white flowers bloom spring to fall